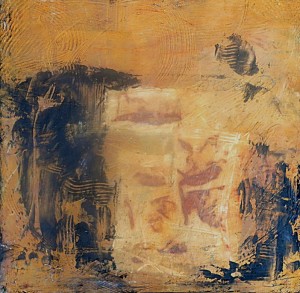 What is Cold Wax?
Cold wax is a soft paste of beeswax, mineral spirits, and resin. Some forms of cold wax were used in ancient times, including on some of the famous Fayum mummy portraits. Cold wax is an oil painting medium as are liquid mediums such as Galkyd. Contemporary painters are discovering ways to use cold wax with oils in ways that highlight the unique qualities of the medium. Cold wax helps extend the paint film, shorten drying time, create and highlight texture. and produce translucence. It is ideal for layering and scraping back to reveal previous layers. It needs no heat as encaustic does, and the lean-to-fat rule doesn't apply as it does in other oil paintings. People often compare laying down oil mixed with cold wax to frosting a cake.
Oil and cold wax pieces are most often done on a rigid wood panel. Using a panel allows the artist to use a higher ratio of wax to paint than pieces done on canvas. It also allows more vigorous incising and scraping back. Arches Oil Paper is also great for oil and cold wax. No gesso is needed and the tooth of the paper adds to the overall effect. Pieces on paper need fewer layers and dry more quickly.
I create multiple layers, adding texture with palette knives, rubber squeegees, and a variety of household tools such as basting brushes, rubber jar openers, plastic combs, coffee sleeves, and cheesecloth. I use solvents such as odorless mineral spirits to allow the paint to run or be incised into more fully. I may use oil bars, graphite crayons, graphite powder, marble dust, or sand to add marks, body, or texture. I incise, scribble, and scrape back, allowing each piece to tell its own story.
Books
Wabi-Sabi Painting with Cold Wax by Serena Barton, North Light Books
Cold Wax Book by Rebecca Crowell and Jerry McLaughlin, Squeegee Press
Basic Supplies
Cold wax medium, liquid oil mediums, oil paints, painting knives, brayers, pottery tools, odorless mineral spirits, wood panels, Arches oil paper, Citra Solv, powdered pigments, graphite powder, oil bars, acrylic gesso, oil paints, acrylic paints ,oil painting ground, marble dust, paper palette, Catalyst marking tools, charcoal, bristle brushes and more from:
My Favorite Stencils
Clean Sand
Oil Pens
Venetian Plaster
Lowes or Home Depot
Community
The talented and generous veteran oil and cold wax artist and instructor Rebecca Crowell administers two sites where artists can share information and images:
Lots of images of oil and cold wax pieces
www.facebook.com/ColdWaxPainting
My Favorite Books on the Creative Process
Art and Fear. David Bayles and Ted Orland: Image Continuum Press, 2001
Steal Like an Artist, Austin Kleon: Workman Publishing Co., 2012
The Creative Conversation, Bridget Benton: Eyes Aflame Publishing, 2011
Films About Abstract Painting
"Gerhard Richter Painting", Director: Corinna Belz, 2012
www.gerhardrichterpainting.com
"Joan Mitchell: Portrait of an Abstract Painter, Director:  Marion Cajori, 1993
http://www.amazon.com/Joan-Mitchell-Portrait-Abstract-Painter/dp/B003XIBKAU