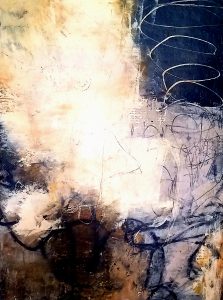 Leave Your Mark: Mark-Making in Oil & Cold Wax Painting
June 17-20, 2023 1-5
Supply List
A basic set of oil paints or your favorite oil paints. If you want student grade paints, I recommend Gamblin 1980. Large tubes of black and white oil paint are very helpful.
Messermeister Bowl Scraper https://www.messermeister.com/products/silicone-bowlscraper-sbs-web
16 oz. tin or jar of Cold Wax Medium
Two medium sized metal palette (painting) knives
One pad of palette paper
Two or more R and F Pigment sticks, your choice of color
One or two 12 x 16" pads of Arches Oil Paper (dickblick.com)
A roll of freezer paper
Two or more R & F Pigment Sticks
https://www.dickblick.com/products/r-f-pigment-sticks-sets/
Six or so cradled wood painting panels, 10" 10" or similar
https://www.dickblick.com/items/blick-studio-artists-wood-panel-flat-cradle-10-x-10-78-cradle/
I will provide additional paints to share, collage elements, texture tools, incising tools, marking tools, and more.
The Fine Print
Cancellation at least 14 days before the class date = full refund or you may change to another class without penalty.
Cancellation 14 days or less before the class date = full refund minus a $30 cancellation fee only if the space is filled by another paying student.
No show = no refund.
By registering for this class, you agree to assume all responsibility for non-refundable expenses including but not limited to travel and lodging. Travel insurance is encouraged.
If the workshop is canceled by the instructor, you will receive a full refund.
Should any injuries or illness occur during or as a result of participation in any class or workshop, the registered student agrees to indemnify and hold harmless Serena Barton.
Mark-making can free us to create intuitively, and to add movement and life to our paintings. Some of the marks you make may survive through the completion of your painting. Others may be obscured by layers of paint and cold wax, but they will still provide a kind of "hum" underneath the work. All your marks and movements will enhance the energy, authenticity, and boldness of your pieces. We'll explore using a variety of tools and techniques. The motto of this class is, "Experiment Boldly!"
We'll work on wood panels, oil paper, and multimedia artboard to build up layers, play with the many additive and subtractive techniques involved in building complex and evocative pieces. We'll explore a variety of styles as you work to discover or strengthen your own style. This will be a small group, where you can get plenty of individual coaching and support.
Masks required. I have high quality masks available for you if needed.
$425.00