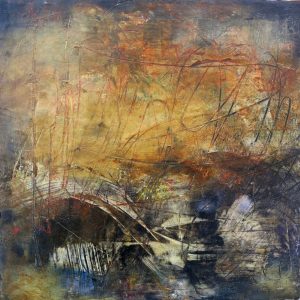 Archaeology and Alchemy in Oil and Cold Wax
March 25-28, 2023 1-5:30
We'll be archaeologists and alchemists in this four-day workshop, digging deep to find treasures and turning lead into gold. We'll work on some pieces from the beginning, and we'll dig into works you have in progress, revamp your old acrylic or oil pieces, discovering and creating new treasures as we go. We'll practice the rhythm of addition and subtraction, using many techniques and materials.
In this workshop we'll be using several methods of incising, pulling back, abrading, and scraping back of layers to reveal sections of previous layers. We'll experiment with mark-making, using solvents, adding metal leaf, texturing, and using additives. You'll come away with richly stratified pieces, full of mystery and wonder.
Previous oil and cold wax experience helpful. Two spots open, so sign up soon!

Supply List:
A basic set of oil paints or your favorite oil paints. If you want student grade paints, I recommend Gamblin 1980. Large tubes of black and white oil paint are very helpful.

16 oz. tin or jar of Cold Wax Medium

Two medium sized metal palette (painting) knives

One pad of palette paper

Two or more R and F Pigment sticks, your choice of color

One or two 12 x 16" pads of Arches Oil Paper (dickblick.com)

A large roll of freezer paper

Two or more R & F Pigment Sticks

Six or so cradled wood painting panels, 10" 10" or similar
I will provide additional paints to share, collage elements, texture tools, incising tools, marking tools, and more.
The Fine Print
Masks may be required. I'll have high-quality masks available if needed. Vaxed and boosted, please.
Cancellation at least 14 days before the class date = full refund or you may change to another class without penalty.
Cancellation 14 days or less before the class date = full refund minus a $30 cancellation fee only if the space is filled by another paying student.
No show = no refund.
By registering for this class, you agree to assume all responsibility for non-refundable expenses including but not limited to travel and lodging. Travel insurance is encouraged.
If the workshop is canceled by the instructor, you will receive a full refund.
Should any injuries or illness occur during or as a result of participation in any class or workshop, the registered student agrees to indemnify and hold harmless Serena Barton.
$425.00