Serena's new show at Gallery 114 in Portland, Oregon starts October 6, 2022. Here's  the information:

To see the show online, go to the gallery site.
Artist Statement: Serena Barton
In the Zone
Having ADHD means that I can be easily distracted; but my kind of brain also gives me a super-power. I'm able to hyperfocus on subjects that intrigue me. I see patterns in and remember details about information I devour, even though the rest of my life is spent searching for lost objects.
I have relied on my hyperfocus on my special interests to keep positively engaged with the world, despite the stress of years of fraught politics and the pandemic. This body of work is a salute to mud-larking* videos, Jane Austen's work and books, podcasts, and videos thereon, British history, art restoration videos, streaming Scandinavian mystery series, and deep dives into neurodivergence and current events.
My aim in this body of work is to express the essence of my passions and the excitement of learning itself in visual form.
I paint in oil mixed with cold wax medium.** I use palette knives, rubber squeegees, and household tools such as bowl scrapers, combs, and coffee sleeves. I build up layers of paint, creating a complex and nuanced surface. I reveal parts of the previous layers by incising and scraping back areas of the painting. Building these abstract pieces is a delicate balance between spontaneity and knowledge of the materials.
Painting allows me to share what I can't say in words, allowing each piece to tell its own story.
*Mud-larking: Searching for vintage and antique objects in river mud, such as the Thames foreshore.
**Cold wax medium: A paste of beeswax and odorless mineral spirits
*********
Serena's work is included in Abstract Sanctuary 9 presented by Verum Ultimum Gallery in Portland, OR. You can see the exhibit online, including a virtual gallery. The show runs through May 2022. Gallery owner Jennifer Gillia Cutshall writes of this exhibit:
Creating Space & Creative Spaces: this 9th Annual Abstract Sanctuary
And we meet again! This time to celebrate the energy, the creativity, and the beauty created by the 53 artists selected for this show. The theme and phrase "Abstract Sanctuary" evokes a vision of space. Space to imagine, space to feel, space to be inspired, and in that way signifies the power and perpetual drive that is art as revelation.
I often describe Verum's Abstract Sanctuary as the more Zen-like of all of Verum's abstract offerings. It is the quieter show with muted tones and more subtle variations. This year was no exception, however there are a few wild cards in the mix! These works pepper the exhibit with a carnival of color (and dynamic expression) while trading beats with the more customary meditative melody.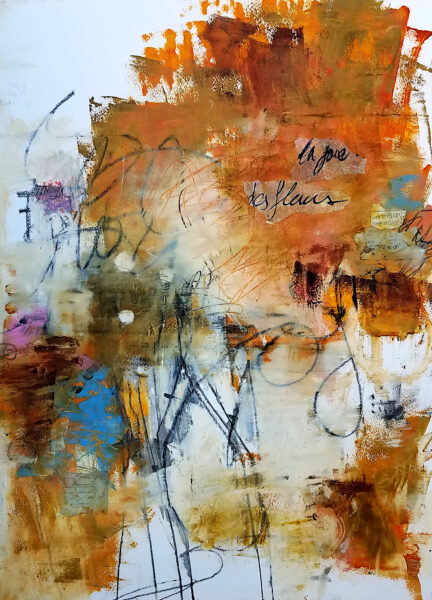 Joy and Flowers  Oil/Pigment/Cold Wax/Collage on Paper  Serena Barton