Visual Haiku with Serena Barton
When:   March 6 & 7 from 1 – 3 Eastern Time
Cost:  $79
Live and Recorded class on Zoom.  All Students will have access to the recording​
This workshop introduces you to a way of creating abstract or semi-abstract pieces through experimentation, adding elements, subtracting elements, and joyful play. We'll explore using traditional haiku by Japanese masters as inspirations for creating atmospheric visual responses to these poems. I'll provide you a PDF booklet of tips and images, as well as many haiku to inspire you.Traditional haiku poetry describes a world of seeing, listening, smelling, tasting, and feeling in the recording of a single moment. A haiku has three lines and seventeen syllables. Each haiku corresponds to one of the four seasons.  Haiku create a mood which may be content, lonely, bittersweet, ironic, or humorous.We'll use acrylic paint, various acrylic mediums, inks, collage papers, ephemera, mark-making tools and your imagination to fashion pieces that express your vision. We'll have demonstrations, time to work, and time for sharing and questions. 
Registration/Information

Complex Simplicity with Serena Barton
When:  When:  May 23, 2021 from 1 – 5 Eastern Daylight Time
Cost:  $79
Live and Recorded class on Zoom. All Students receive a copy of the recording. 
Complex simplicity refers to a piece that is simple in composition while it also contains layers of color and texture underneath the top layers. These layers make the difference between a flat, uninteresting piece and a vibrant, alive, work that intrigues the viewer. You'll discover the magic of complex simplicity in this experimental workshop! I'll show you techniques to layer and texture your work, materials for atmospheric pieces, and how to loosen up and create with enjoyment.
We'll explore texture methods, layering, color choices, and composition. We'll use plaster over gesso as a base for your work. We'll incorporate palette knife work, marble dust, sand, acrylic paints, inks, stencils, collage elements, and mark-making with various tools. I'll provide you with a PDF booklet that includes images of various techniques.

My New Online Class! Abstract Painting with Oil and Cold Wax: An Introduction/Review
If you've been curious about painting with oil and cold wax, here's your chance to learn how to do it! Maybe you've had a class but would like to review the tools and techniques involved. I provide six lessons, each 20-35 minutes long, that include:
Preparing your supports
Mixing your paints and cold wax
Getting started
Building layers
Texturing
Mixing colors
Composition
Using solvents
Inspiration
Using collage in oil and cold
Using marble dust and Simple Leaf
Incising and scraping
Using Pigment Sticks and Oilbars
Mark-making
Making quick paintings on oil paper
Transparent and opaque colors
Your class also includes a 21-page "handout" outlining what you need to know to successfully work in oil and cold wax, and a supply list to get started.
I have started a FB group only for students of this online class, where you can post work, ask questions, and discuss all aspects of the process.
$125.00
————————————————————————————————–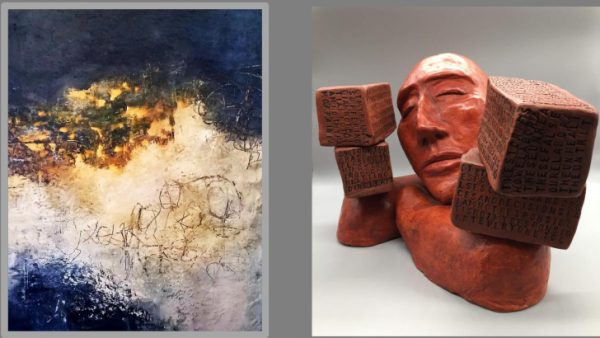 Left: Serena Barton                                    Right: Jo Grishman
 Casting the Runes                                       Voluntary Burdens
 Oil/Cold Wax/Mixed Media on Panel                       Clay/Mixed Media
 24" x 20"                                               10" x 23" x 7"

Confluence
Serena Barton & Jo Grishman
July 2-31, 2020
Serena Barton, Gallery 114 artist, and her guest artist, Jo Grishman, will exhibit their show, Confluence, online at Gallery 114 .
Serena's show is also installed at the Gallery 114 physical space at: 1100 NW Glisan Street, Portland, OR 97209. The Gallery is open by appointment for two viewers at a time. Viewers must wear face masks.
Serena Barton, painter, and Jo Grishman, sculptor, were inspired by their shared sensibilities and internal processes to bring their work together in this exhibit. Both are intuitive artists, willing to enter the creating process without a road map. Their pieces reflect both introspection and a connection to the world outside themselves. They work in layers, adding and subtracting as needed, and delight in the interactive nature of their relationships with their chosen mediums.
Serena Barton: Artist Statement
My work in oil and cold wax medium is intuitive and unplanned. I create multiple layers of texture using palette knives, rubber squeegees, and household tools such as rubber jar openers, bowl scrapers, combs, and coffee sleeves. I build up many layers of paint mixed with cold wax, creating a complex and nuanced surface. I reveal some of what came before by incising and scraping back areas of the painting. Years of painting with oil and cold wax allow me to know when to yield to the materials and the process, achieving a delicate balance between spontaneity and mastery of materials.
"Instructions Not Included" was the title I gave the body of work that appears in this show. Themes that I saw emerge were: leaving my profession of over 40 years to become just myself, my grief and rage at the erosion of our republic, inspiration from viewing Paleolithic cave paintings, and my joy in relationships with others and with art.
Painting allows me to share what I can't say in words, allowing each piece to tell its own story.
Jo Grishman: Artist Statement (Online Exhibition)
In this exhibit, I show two series of narrative sculpture and masks: Balancing Act and The Masks We Wear.
I am inspired by collecting found objects from nature and detritus, words, song lyrics, quotes, book passages, and day to day life experiences. I am constantly searching for a new language to express myself and the various materials reflect that personal exploration.
Creating is a dance, a push/pull, as I manipulate the clay and it starts to become. The sculptures and titles invite the viewer into contemplation, identification, and engagement as they bring their own personal experiences and narrative to my work.
Jo and I prepared this Artists' talk and demo for our show.

We also offer a 35-page catalog for the exhibition, Confluence, with painter Serena Barton and sculptor Jo Grishman. The catalog contains artists' statements, bios, and many full color images of work in this show. You can order from Serena Barton through her contact page on this site.
Soft Cover: 40.00