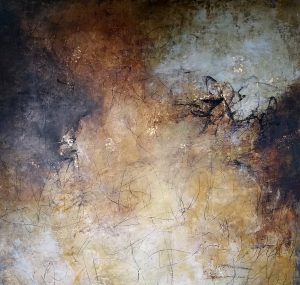 Archaeology and Alchemy in Oil and Cold Wax Painting
September 13-16, 2019
Many supplies provided.
Please bring your old acrylic or oil paintings, works in progress, and 2-4 gessoed cradled wood panels, Bring your old or unfinished pieces to work on. (They can be oil/cw, oil, or acrylic.)
Your favorite oil paints
A few R & F pigment sticks
One pad 12 x 16″ Arches Oil Paper
One 16 oz. jar or tin of Gamblin or Dorland cold wax medium.
We'll be archaeologists and alchemists in this four-day workshop, turning digging deep to find treasures and turning lead into gold. We'll work on some pieces from the beginning, and we'll dig into works you have in progress, revamp your old acrylic or oil pieces, discovering and creating new treasures as we go.
In this workshop we'll be using several methods of incising, pulling back, abrading, and scraping back of layers to reveal sections of previous layers. We'll experiment with mark-making, using solvents, adding metal leaf, texturing, and using additives. You'll come away with richly stratified pieces, full of mystery and wonder.
Level: Intermediate to Advanced
$650.00