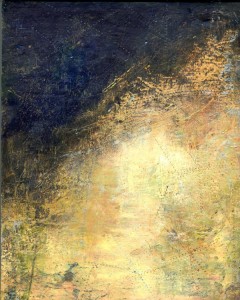 Building Layers and Texture with Oil and Cold Wax
January 18, 19, 20, 21st, 2019 10-4:30 except for the 20th, when we'll meet from 10-2.
Bring: One 16 oz. jar or tin of Gamblin or Dorland's cold wax medium, an oil paint set (inexpensive is fine), and two cradled panels of any size.
I will provide: Extra cold wax, additional oil paints, mixed media board, and flat birch panels, a variety of texturing tools, brayers, tissue paper, oil bars, and more.
Tuition: 500.
This class is full.
Oil and cold wax are the perfect materials for creating a richly textured and complex surface. You will learn how to build up many interesting layers, how to choose colors, how to use many unusual texturing tools, how to use oil bars for added painting excitement, how to incise and scrape back, and how to bring your pieces together. I focus on abstraction, but if you want to use a more representational style, that is fine. You'll leave with some works in progress and some finished pieces, and with the knowledge to keep working in this amazing medium.
Feel free to contact me if you have any questions about the class. When you register, I'll tell you how to find my Portland, Oregon studio in the Montavilla area. If you need information about lodging and restaurants, I'll be happy to provide it. (You can walk to several fine restaurants, coffee shops, and a small grocery store from my studio.)
Cancellation Policy
Cancellation at least 30 days before the class date = full refund minus $50 cancellation fee or you may apply your payment to another class.
Cancellation less than 30 days before the class date = full refund minus a $75. cancellation fee
No show = no refund.
If the workshop is canceled by the instructor, you will receive a full refund.
Should any injuries occur during or as a result of participation in any class or workshop, the registered student agrees to indemnify and hold harmless Serena Barton.
My workshops are limited to 8 participants & tend to fill fast, so please register early. If the class needs to be rescheduled due to weather or low enrollment, refunds will be issued in full.
$500.00