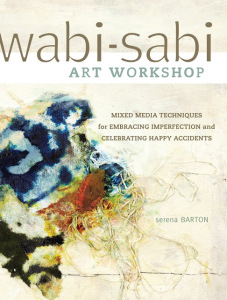 Embrace imperfection. Build up. Tear Back. Find inspiration in the weathered.
First and only book to provide step-by-step technique instruction for this style
Packed with demonstrates 40 step-by-step technique demonstrations for beginners and more experienced artists
Includes techniques for popular media: acrylic paint, alcohol inks, encaustic paint, collage elements and more.
An approach to mixed-media painting that celebrates the Wabi-Sabi philosophy–embracing imperfections, building up and tearing back and finding inspiration in what is aged and seasoned. Readers will learn what Wabi-Sabi means and how to use the approach to find inspiration and beauty in the humble nature of everyday objects. The author demonstrates how everyday photographs express the Wabi-Sabi style and shows how they serve as inspiration for color, shape, texture, composition and mood. After learning where to look for inspiration and what materials to use, the reader will be guided step-by-step through eight technique chapters each with a new focus on painting technique and composition.
I have a blog, called "Wabi-Sabi Art Workshop with Serena Barton" where I'm posting my wabi-sabi photos and art work. I'm also posting readers' questions, comments, and their photos and art work. Check it out!
Purchase
Receive a signed copy from me with a bonus gift. Shipping is free in the continental U.S.
$24.99
Also available from North Light Shop and from amazon.com. You can view bonus content at createmixedmedia.com as well.
Want to carry Wabi-Sabi Art Workshop in your online or retail shop? Contact FWmedia. If you have any questions, or are ready to place an order, please contact the FW Customer Service Dept. at 1-800-289-0963 or via email: fw_cin_orders@fwmedia.com.
My new book on oil and cold wax painting and the creative process will be published by North Light (F and W Media) in Fall 2015.