Introducing Serena Barton
I spent a lovely hour today with Serena Barton, artist, art instructor and therapist specializing in creativity issues.
Making art was her favorite thing when she was a kid and then she switched over to doing local community theatre. Luckily she had the chance of expressing herself at home and at nursery school a few days a week.  As she got older she took art classes in school, "but my water color always dripped, and I'm not good at exact things at all and so when we cut out snowflakes, mine would be a mess, and paper dolls wouldn't stay together.  And I kind of got the idea over time that I just wasn't any good at art." So she became an 'appreciator'.  She tried making crafts, but found it too exacting.  She started painting on muslin which she used to make pillows.
Then came Italy.  "When I was 47 I went to Italy for the first time and it was the first time in my life I felt like the sky opened, and oh my gosh, the sky, the art, the peeling buildings,  and I thought, I have to be an artist, I have to figure out how to do this. Then I came back and I taught myself, a lot from reading books, but mostly by looking at my favorite artists – I was working in a more representational style then – and it was like, I finally found my thing.  It took me that long to find what I'd been looking for, and so to pick up where I left off when I was a child."
She started working with acrylic, then oil, (renaissance inspired with a modern twist), and, about four years ago, started with cold wax.  I'm just now learning about cold wax, so I found this interesting.  She created a picture as we talked, (see below)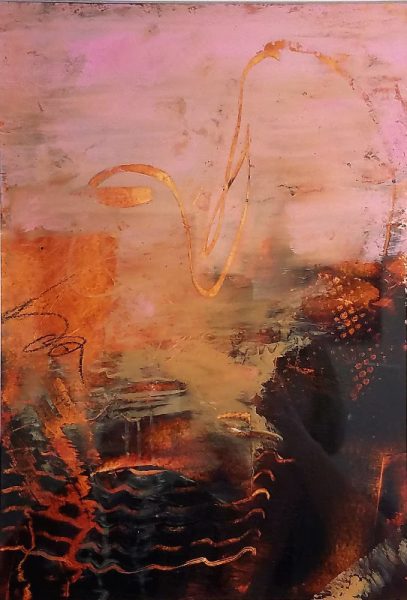 which was really instructional.  Her creative process is also interesting.  "I make intuitive abstracts.  I may have an idea at the beginning and it turns out very differently, but often I don't have any idea at all, or I might just have an overall thought. With cold wax you just start building layers, scrape back, scribble around with oil bars and add some more layers, then maybe use some solvent to wash some of it back. I usually don't know what's going to happen.  Challenging, interesting, sometimes frustrating, but I think I turned a corner lately.  I don't mind anymore if I have to start over, or keep going – it's kind of like life in some ways. There are always do-overs.  You have to get out of your own way and pretend you don't care."  Sage advice.
She has so much good advice – a born teacher.  I asked if it was difficult to create art if you aren't in the right mood.  "Then you paint not being in the right mood.  The important thing is to keep going – understand that getting blocked is a part of the process and it's going to happen to you sometimes One thing I finally learned is that no matter how bad it is, I'll come through it."  She has noticed that "Before I have some kind of shift in my art there's this period of angst, where I don't know what I'm doing, I'm only creating ugly stuff, but I just keep painting, and you can always paint over it once you've turned a corner, but it's a weird process." After the period of angst her art usually changes in a way she likes, "but there's always a spiral, going over to the dark side of things, before you come over to the next rung. It's not true for everybody, but I think it's true for a lot of people.  Especially if you work intuitively, because you have to wait until your intuition catches up with where you are."
*************
A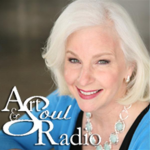 Wabi-Sabi Interview with Serena Barton. My interview with host Lesley Riley aired June 24, 2013 on Art and Soul Radio. Go to the Art and Soul Radio site to hear it.
My Work Appears in: Mixed Media Portraits by Pam Carriker, North Light Publishing
Quotes Illustrated by Lesley Riley, North Light Publishing
No Excuses Art Journaling by Gina Rossi Armfeld, North Light Publishing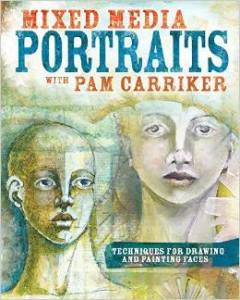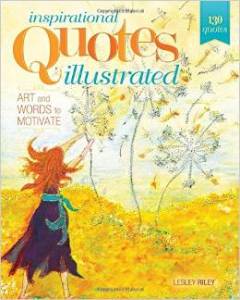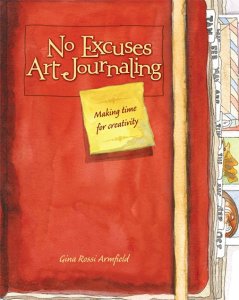 Simplicity in Somerset Apprentice
You'll  find my artilcle on encaustic collage in the Fall 2013 issue of Somerset Apprentice magazine. You can order a copy of the issue from Somerset.
Watch my recent interview with the editor of Mixed Media Art Magazine.
See my articles in the November/December 2009 issue and May/June 2011
My studio is featured in the Spring 2010 issue of Studios Magazine