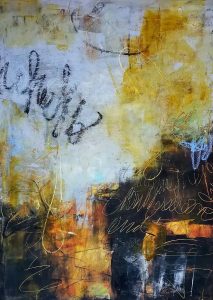 This class has been postponed due to current Covid conditions. Email me to be put on the notification list when the class is rescheduled.
Supply List:
Your favorite oil paints
Six cradled panels
One pad of Arches Oil Paper 12″ x 16″
One Messermeister bowl scraper https://www.messermeister.com/search?type=product&q=bowl%20scraper*
Two or more R and F Pigment sticks, your choice of color
Oil paint and cold wax medium are perfect vehicles for abstract landscapes and seascapes. You'll create evocative renderings of the atmosphere and essence of special places, in intuitive and abstracted pieces. We'll cover how to choose colors, shapes, and formats for your pieces, using the most important aspects of your memory and/or photos. We'll explore the idea of complex simplicity of texture and form. You'll leave with some lovely landscapes, works in progress, and the skills to keep going in oil and cold wax abstraction.
All students must be fully vaccinated.
Cancellation and Liability Policies
Cancellation at least 14 days before the class date = full refund or you may change to another class without penalty.
Cancellation 14 days or less before the class date = full refund minus a $30 cancellation fee only if the space is filled by another paying student.
No show = no refund.
By registering for this class, you agree to assume all responsibility for non-refundable expenses including but not limited to travel and lodging. Travel insurance is encouraged.
If the workshop is canceled by the instructor, you will receive a full refund.
Should any injuries occur during or illness as a result of participation in any class or workshop, the registered student agrees to indemnify and hold harmless Serena Barton
$490.00