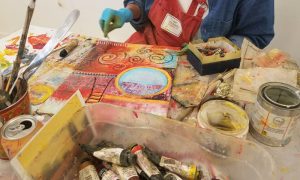 Mark-Making and Movement in Oil and Cold Wax
May 14-17, 2018 9-4 daily
Pacific NW Art School on beautiful Whidbey Island, Washington
                                                15 NW Birch St, Coupeville, WA 98239
Creating abstract art with oil paint and cold wax medium involves taking a journey into yourself and your world –without a map. The process is intuitive, bold and full of discovery. Your pieces will take on lives of their own through the many layers of oil and cold wax you apply, addition of mixed media elements, and the areas you choose to scrape away. There are many opportunities for happy accidents and unexpected joys. Each oil and cold wax piece is a result of a moment in time and space where elements converge in a one-time-only way.
If you are an experienced painter, you'll love delving into painting with oil and cold wax. I'll help you achieve a loose, expressive attitude and style. If you are new to painting, working with oil and cold wax is a great way to begin. I love this medium, as there are no mistakes! You can change the look of your piece at any time by layering, scraping back, and using solvents.
The watchword for this workshop is, "Experiment!" You'll build up many layers, incise, scribble, scrape back, and texture your work, allowing each piece to tell its own story.