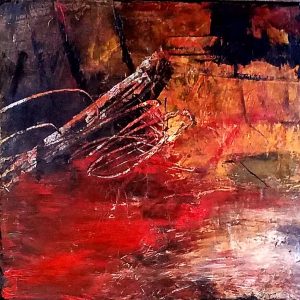 Mark-Making and Movement in Oil and Cold Wax
June 6-9, 2019
More Information/Registration:
https://pacificnorthwestartschool.org/
All levels welcome.
Join me on beautiful Whidbey island, Washington, for a four day workshop in an amazing medium! We'll meet at Pacific NW Art School, whereI'll show you lots of techniques for adding layers, textures, graphic touches and atmosphere to your work. I let you in on the qualities unique to oil and cold wax. I encourage you to mix and match techniques in your own way and to develop your own style. You'll learn several ways to prepare your wood supports, including using Venetian Plaster and oil ground, and we'll play with Arches oil paper and Multi-Media Board which need no preparation before you dive in with paint and wax. You'll learn how to use ordinary household tools to incise and make marks, how to scrape back for a dramatic look, and how to unify your compositions. We'll also cover adding collage, sand, plaster, marble dust, and collage elements to your pieces. We'll explores the creative process and ways to get your creativity flowing.
If you are an experienced painter, you'll love delving into painting with oil and cold wax. I'll help you achieve a loose, expressive attitude and style. If you are new to painting, working with oil and cold wax is a great way to begin. I love this medium, as there are no mistakes! You can change the look of your piece at any time by layering, scraping back, and using solvents.
The watchword for this workshop is, "Experiment!" You'll build up many layers, incise, scribble, scrape back, and texture your work, allowing each piece to tell its own story.